A Wild Guess
From the starting position, there was a cattle tile visible. However, there's no fresh water visible, and remembering England's plight in Epic 22, I wondered if there might not be any for a while. Plains-cattle isn't improvable in Despotism without fresh water.
Moving the worker to the bonus grassland didn't reveal any new map info, so I didn't worry about the cattle, and founded on the starting square. That'd only cost me one shield as compared to moving next to the cattle; the worker will have the bonus grassland mined in 3 turns, making it produce the same as the cattle tile, and having the city founded a turn sooner makes up two shields of the difference and of course gets a turn's worth of food and commerce. Yes, I always micro-analyze starts like this.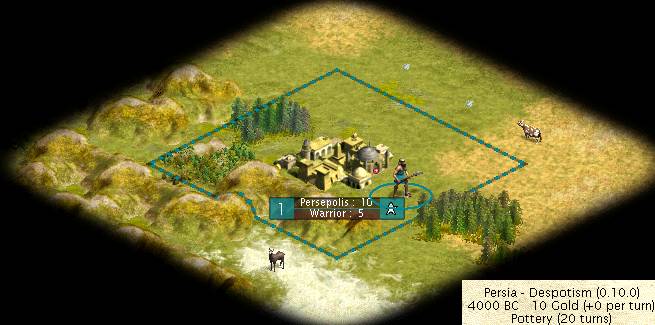 I'm also rewarded for that decision by a tundra-game square. Doesn't help in Despotism, but it will in the long run.
---
Anyways, max research on Pottery as always, and then on Alphabet. The worker improves the bonus grasslands, of course, and builds a road on the cattle square. I didn't record how many warriors I built before the granary, but I think it was two to explore and one for police. Going up to the four-free-unit threshold (including the worker) is a decent guideline to follow.
The exploring warriors figured out the game's twist pretty quickly: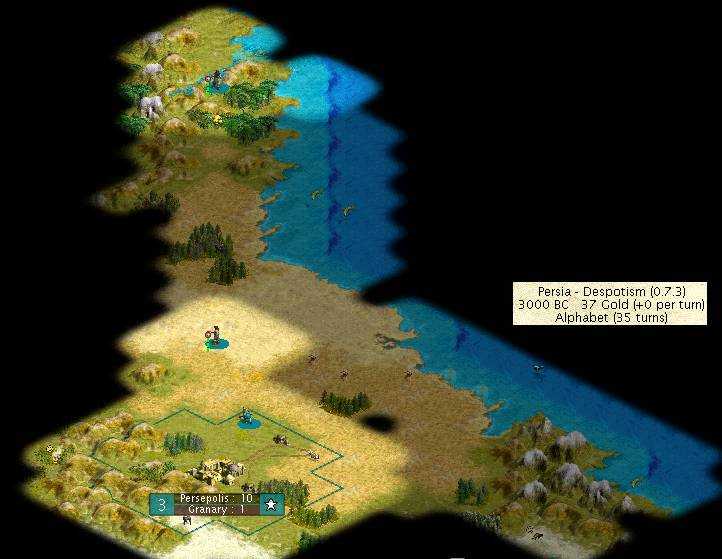 Looks like no irrigation will be available until Electricity. There did turn out to be a couple of lake tiles, but they're locked in tundra.
In 2800 BC, we finally contact someone, and it is Egypt. No trades to be made, though.
In 2630 BC, I get my next city founded: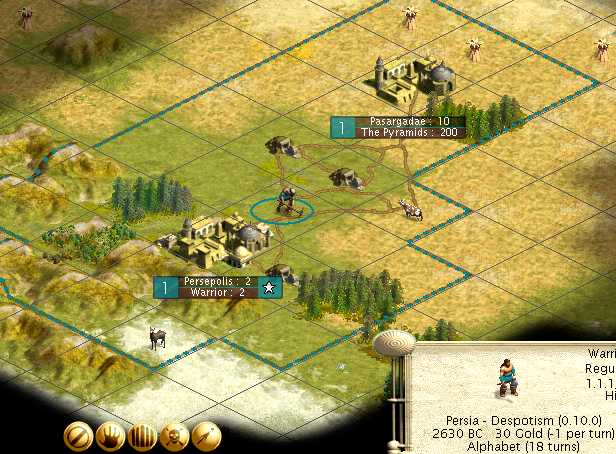 This city has one purpose in life: to build the Pyramids. That's why the city's at that location: to use the two bonus grasslands between it and Persepolis. Those two squares, plus two mined wheats, plus two mined plains, will park the city neatly at size 6 with no food surplus but 13 shields per turn. The Pyramids will be absolutely critical on this low-food map.
I choose to give the bonus grasslands to Pasargadae also because Persepolis's settler-building is going to be limited by food; it can get along without those bonus-shield tiles. Also, I don't need to allocate worker labor to Pasargadae until the city is about to reach size 3.
---
The RNG handed me a bit of bad luck; my warriors lose two of the first three battles with barbarians. Persepolis has plenty of time to build replacements between settlers, though. When one warrior finally disperses a camp in the south, I use the cash from that to top off my 5 remaining turns on Alphabet from Egypt, and start a minimum science run on Writing while saving up to buy Warrior Code.
I also contact the Greeks, and uh oh, Athens is building the Pyramids. But it's only at size 2 according to F11. It's all going to depend on how good terrain Athens has...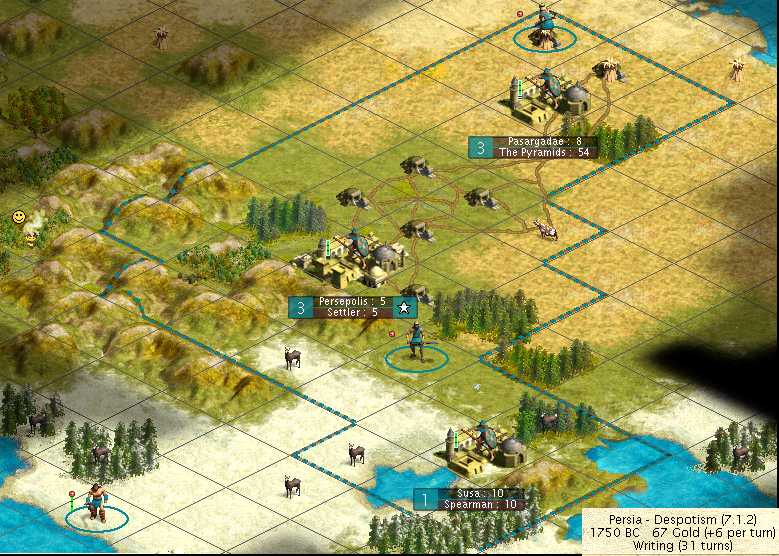 Susa founded 1750 BC, next to the only tile within a thousand miles that's got potential for better than 2 food in despotism (and thus growth in better than 5 with a granary.
I suck it up and pay 64 gold to Greece for Warrior Code (with only two civ contacts and without any brokering); I need some archers pretty badly to hold off the barbarians. Greece has Iron Working and Egypt has Writing, but I can't afford either to broker.
In 1300 BC, Pasargadae has reached size 5, and has run out of two-food tiles to work. I merge in my starting worker to take it to size 6 (growth would take 20 turns) and break-even food. The Pyramids will arrive in 17 turns, building 11 shields/turn; that's the best I can do. No idea how Athens is doing, but it's got a lot of flood plains which have jumped it up to size 6 already.
Greece establishes embassy with me, which is disappointing because now I can't do it with Greece to get the free city investigation of Athens. :P
---
My fourth city didn't get founded until 1175 BC, and here's why: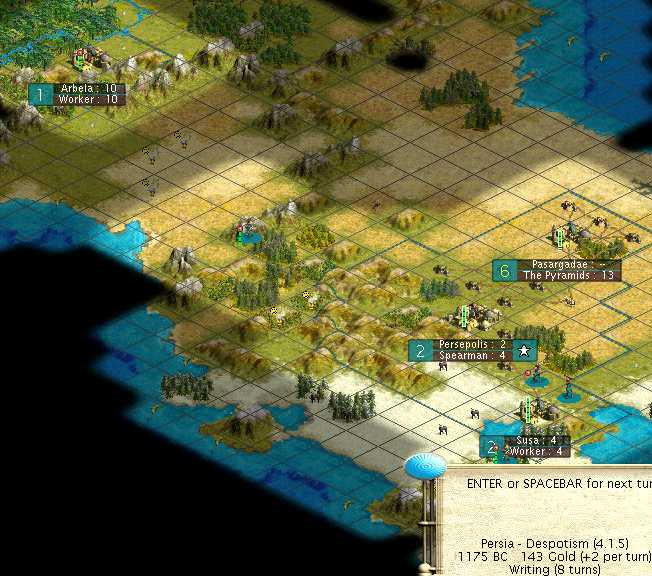 It's waaay over there. That settler and spearman simply set out to find somewhere - ANYWHERE - fertile in which to build, and this was the first decent site they found. Importantly, this city also grabs a river, which will give me a chance to build the Hoover Dam way on down the road. Now I just have to hope I can secure this city from flipping. Also, I intend for it to be my Forbidden Palace, although it will first have to build a library. It is a looong way away, but with fresh water, a game tile, and the Pyramids effect coming, it should grow quickly enough to put out a decent number of shields.
---
India completes the Oracle in 975 BC; that's okay with me. Pasargadae is up over 300 shields, so cascade from the Oracle to the Pyramids is no danger. Greece, though, cascades to the Great Library, meaning I have no shot at that.
Also in 975 BC, my minimum run on Writing finishes (man, that took a long time), and ALL FOUR of the techs immediately beyond are available. Yech; I was hoping for some brokering.
I haven't been able to make contact with anyone beyond Egypt or Greece. I only really sent out one exploring warrior in that direction, and he ended up making a wrong turn instead of going through Greece. He's now stuck here: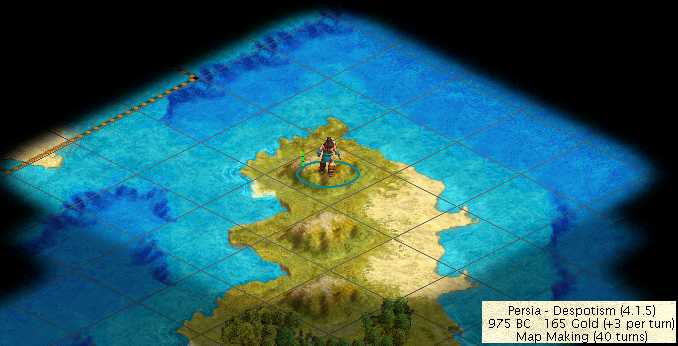 Aargh. He can't contact England from that position until that border expands TWICE, or a galley sails by. Gonna have to do some trading...
---

Realms Beyond Civilization Epics:
One
|
Two
|
Three
|
Four
|
Five
|
Seven
|
Nine
Epics:
Ten
|
Twelve
|
Fourteen
|
Fifteen
|
Sixteen
|
Seventeen
|
Eighteen
|
Nineteen
Epics:
Twenty-Two
|
Twenty-Three
|
Twenty-Four
Other Reports:
Solo Deity
|
My Succession Game
Articles
|
Links